Get the 100% GUARANTEED SpeedyVeg
Product Today! Start growing 20% faster today!
Now Available in 3 Home Grow Options and Bulk Grow Options.. Select Your Product Below.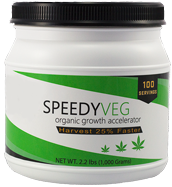 26 Reviews
1 Bottle of Speedy Veg – $33.00
Free Shipping in U.S.A.
100 Treatments! ($0.33/treatment)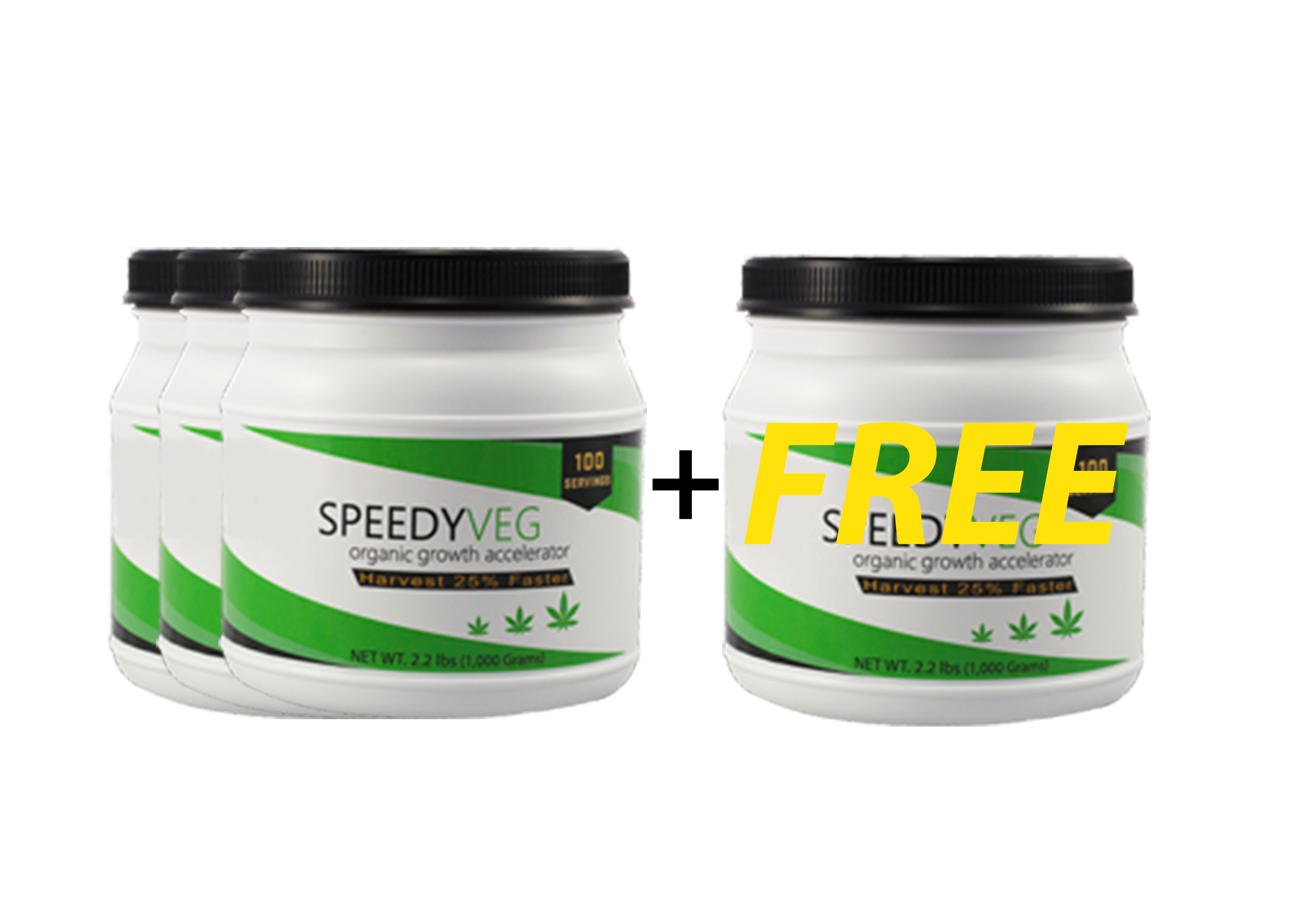 47 Reviews
3 Bottles of Speedy Veg (Get One Free) – $99.00
Free Shipping + 20% Discount
400 Treatments! ($0.25/treatment)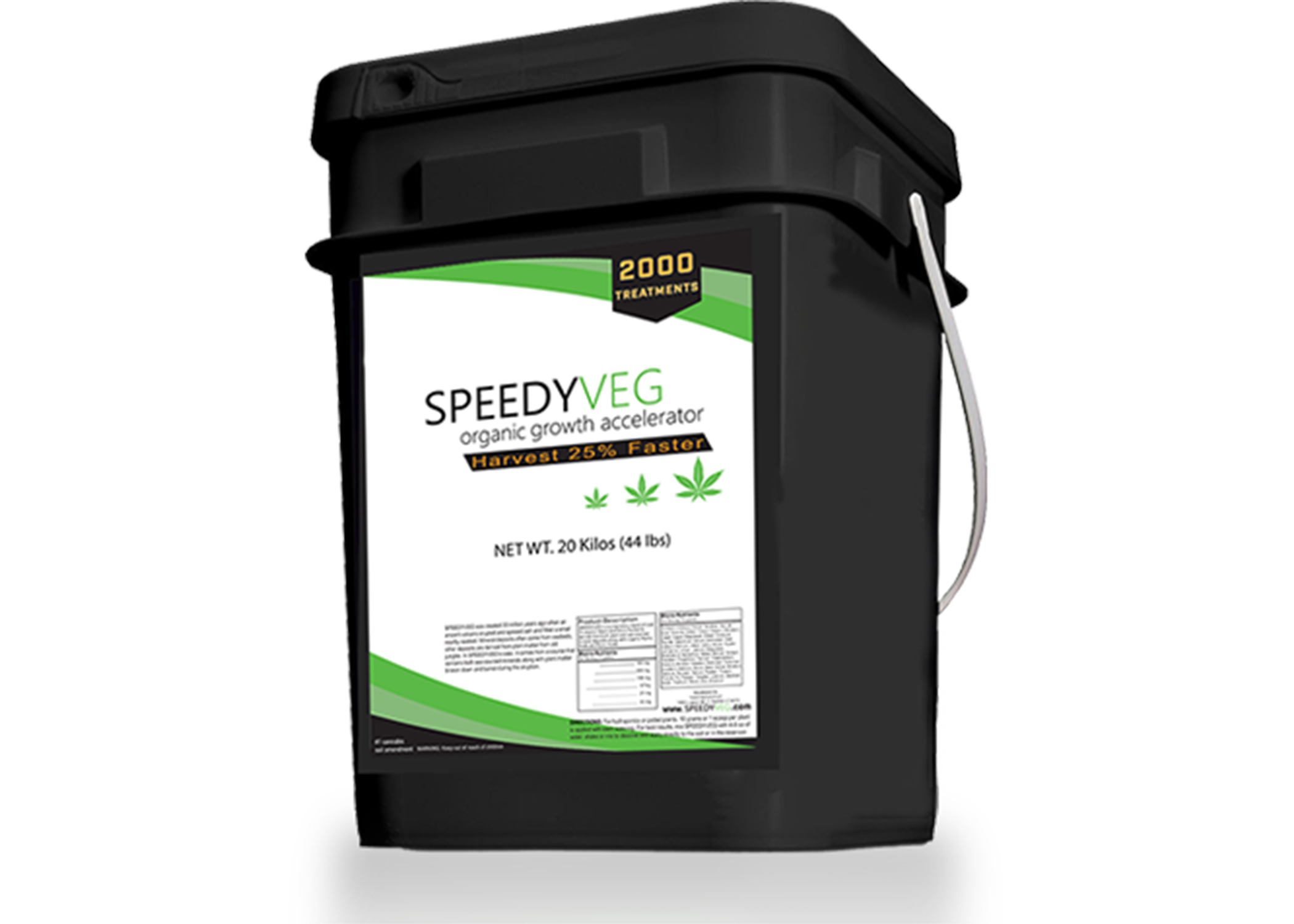 20 Kilos  (over 50% discount)

19 Reviews
1 Five Gallon Bucket – $299.95 
free shipping + 20 kg of SpeedyVeg
2000 treatments ($0.15/treatment)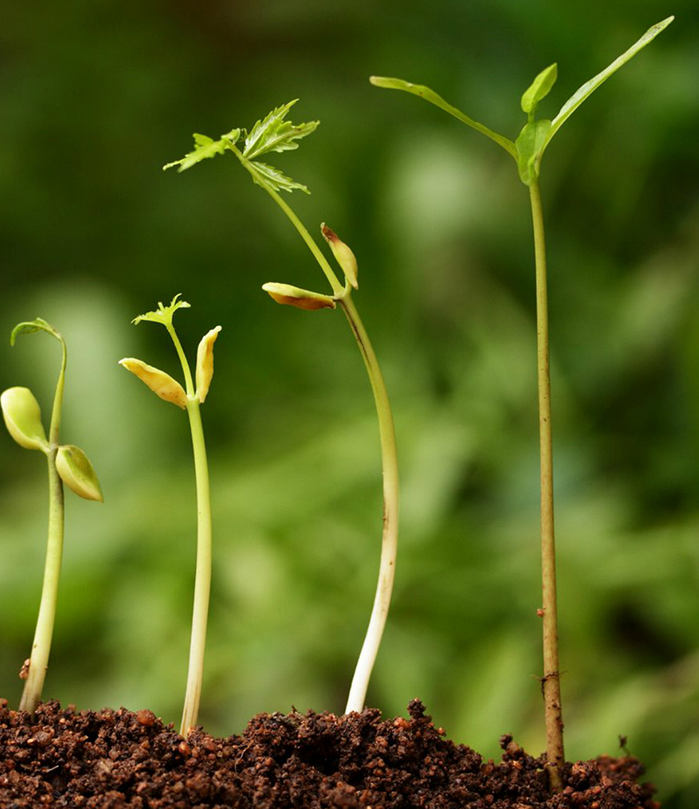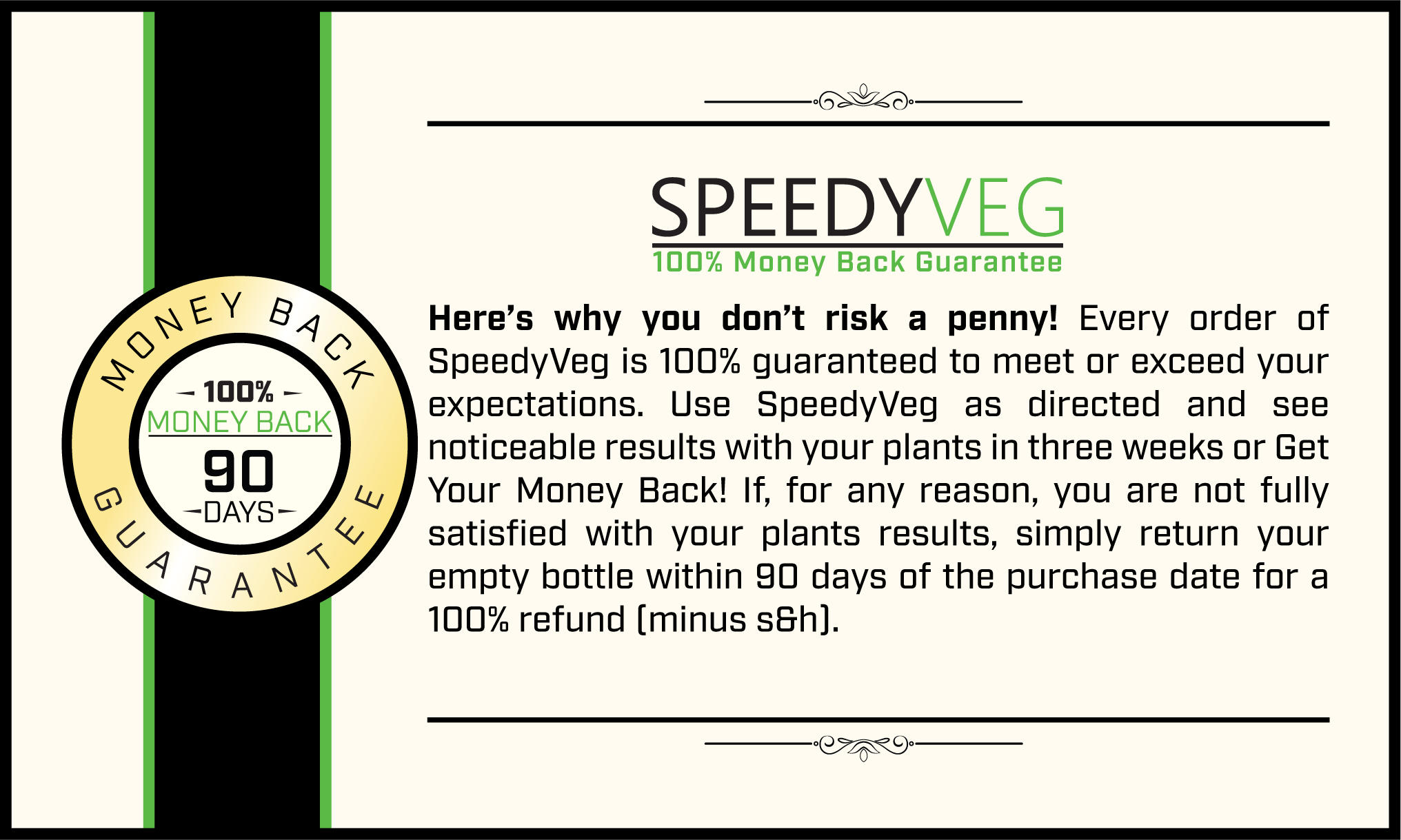 What The Heck Is SpeedyVeg??
Some of these deposits date back over 30 million years allowing Mother Nature to do her work breaking down these vital nutrients so that they are perfectly designed for plant absorption and use. By using SpeedyVeg you are reintroducing vital minerals that have been missing in your soil thereby creating an atmosphere your plants can thrive in. It's as if you are using virgin soil, the perfect growing conditions for your cannabis and that's the why you can now grow up to 20% faster.
Welcome to SpeedyVeg, the nutrient that in 2017 is taking the cannabis industry by storm. SpeedyVeg was formed with the idea of creating the most powerful organic macro and micro nutrient found anywhere on the earth that would accelerate cannabis growth at impressive rates. Mission Accomplished! How? After years of testing mineral deposits from all around the world we have produced a powerful low sodium macro and micro nutrient blend combining over 70 trace minerals sourced from plant mineral deposits, sea sourced minerals and ancient volcano deposits.
SpeedyVeg is Organic Listed by OMRI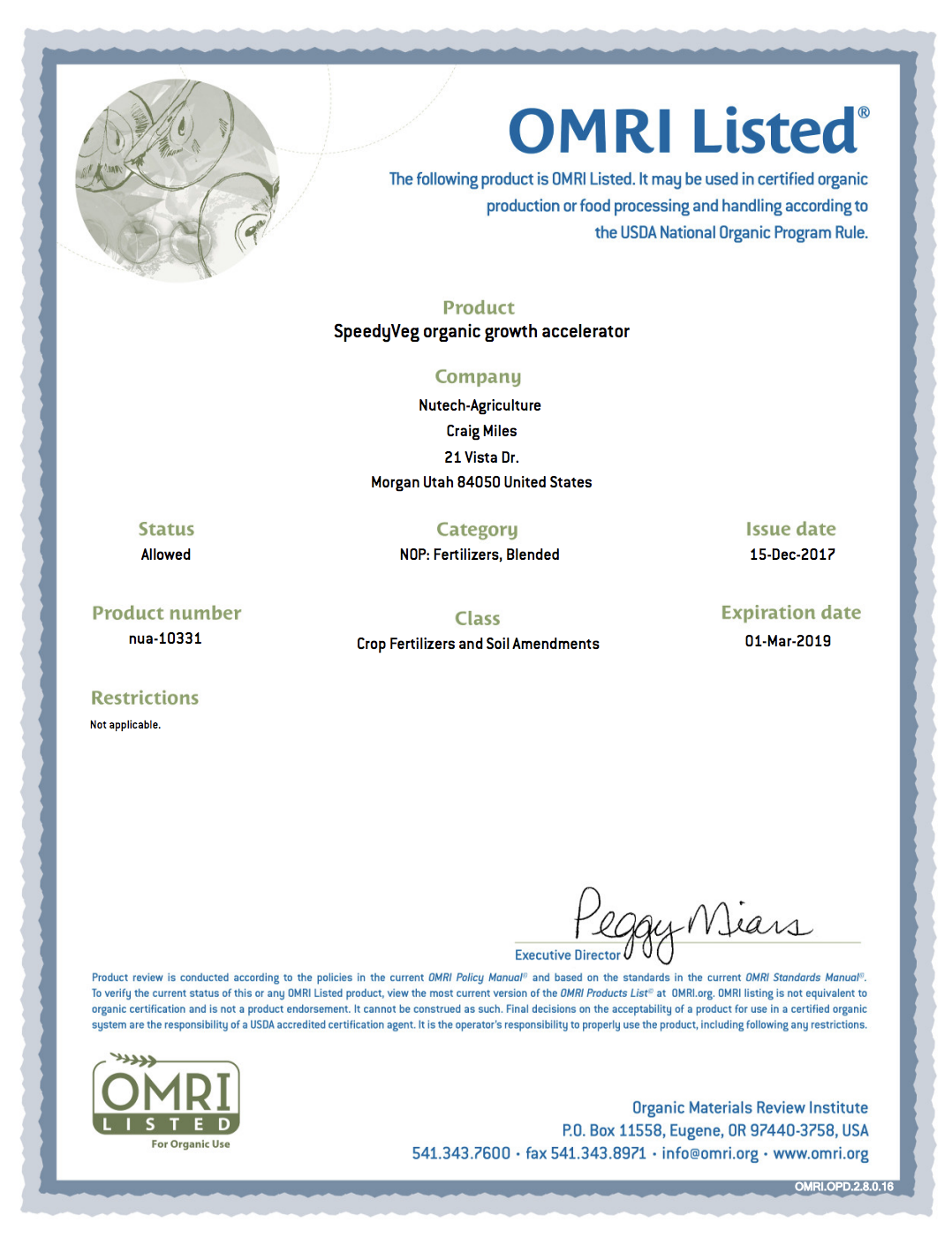 WHY SPEEDYVEG WORKS &
what makes it different?
To put it in simple terms, the periodic table is a chart of the 118 elements that make up everything on the planet. Soils become depleted as the plants grow and use these elements for food. Back in the 1920's farmers began to adopt fertilizing techniques using nitrogen (N), phosphorus (P) and potassium (K) or NPK for short. So for the last 100 years of agriculture, plants have been depleting soils year after year and farmers have only given back to the soil a total of 3 elements out of 118. Farmers wanting larger yields continued to add more and more of these 3 synthetic chemical fertilizers until soil toxicity has now become a major issue.
Agricultures has what is called "Liebig's Law Of The Minimum"
The law of the minimum states that growth is limited or controlled not by the total amount of resources available to the plant, but by the scarcest resource, or limiting factor.
Which translated means no matter how many synthetic chemical fertilizers (NPK's) you use, your plants genetic potential is limited based on the other missing macro and micro nutrients.
SpeedyVeg fills these nutrient gaps because it contains over 70 different natural trace nutrients plants crave during the growing process. And because these nutrients come from nature, there are NO toxicity issues. SpeedyVeg makes all of these nutrients available to the plant during critical growth stages, we find that it maximizes the plant's genetic potential.
What does it mean to "Maximize the Plants Genetic Potential? If you are growing cannabis it means large healthy plants that mature 20% faster with higher THC levels. That's what maximizing the plants genetic potential means. It means your plant now has all of the nutrients it needs to do its job and grow the way mother nature intended it to. For example, if a strain of cannabis regularly tests a 20% level of THC, our growers would expect THC levels to be 22% or more.
What is the periodic table and how does it affect my plants' growth?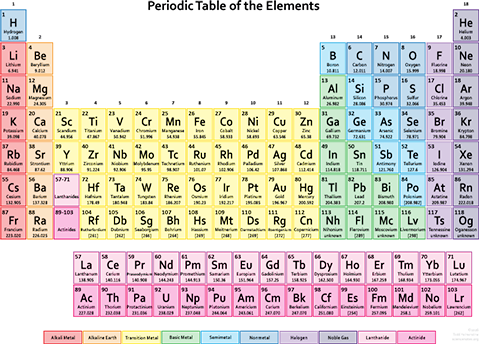 Look at all the elements in SpeedyVeg!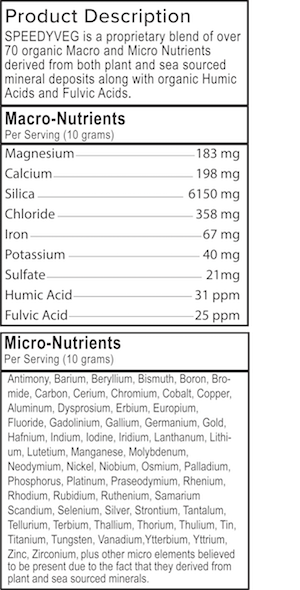 First time I used Speedy Veg, I was a skeptic. I've heard too much BS from all the other supposed growth accelerators out there. And I've tried them all. I count myself a bit of a scientist–where I want to give everything it's own test. In my Speedy Veg test, I was blown away. It was literally like steroids for my plants. But ALL NATURAL steroids. Now I'm hooked. Speedy Veg is what ALL my main runs get now. Thanks for the killer organic goods, Speedy V.!
I've been growing for 18 years, and I've seen everything. Nothing gets my plants to bloom as fast as Speedy Veg.
Love a company whose product keeps its promise! Does exactly what it says: SPEEDY Veg!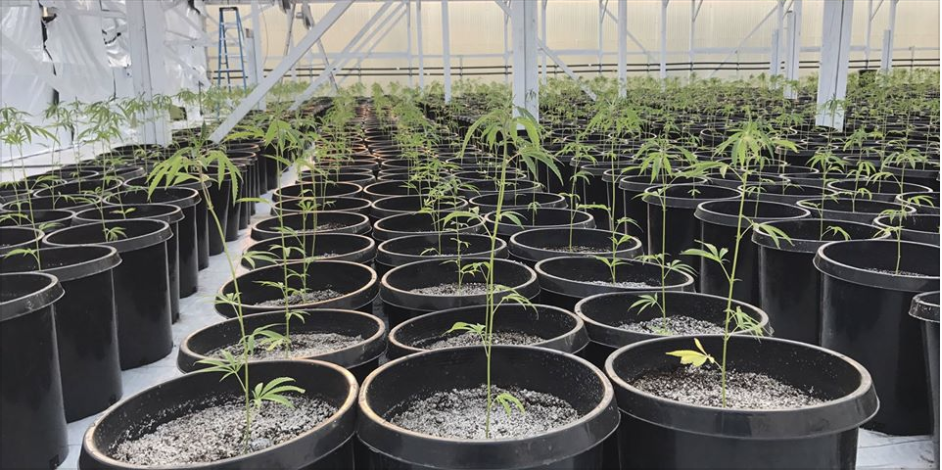 After Applying SpeedyVeg You'll Be AMAZED At What Happened!!
Using SpeedyVeg with NPK's
Some growers prefer organic nutrients only, others like to use a combination. Many times growers are happy with their results using (N,P,K) and are only using SpeedyVeg to further improve their yields and decrease grow times. In that case don't change any of the (N,P,K) feeding schedules, just add SpeedyVeg every time you water or twice a week and watch how "speedy" you get to "veg" then to harvest!
When to use
SpeedyVeg was specifically formulated to accelerate the plants natural veg time but up to 20%, and that is when you will see the most outrageous increase in growth. But many of our growers continue to use it past the veg stage as plants will also see benefits during the blooming cycle. It has recently been discovered that many of the trace mineral micro nutrients found in SpeedyVeg are vital during the late phase of growth to stimulate thicker bud, to produce more trichomes and increase THC percentage no matter what strain of cannabis you are growing.
Easy Indoor Directions
Indoor Soil Use: It is very common for indoor growers to water and feed their plants every three days. SpeedyVeg is easy to use for these indoor plants, a 10-gram treatment or 1 scoop per plant is applied with each watering. For best result mix SpeedyVeg with 4oz-8oz of water, shake or mix until dissolved and apply directly to soil at the base of the plant. Applying this way the nutrients quickly follow the water pathway to the roots of your plants and incredible results will be seen within 2-3 weeks.
Hydroponic Use: Depending on the system, hydroponic growers may water and feed plants several times a day. It is recommended SpeedyVeg be used on plants every three days or a minimum of two times per week. Use 10-grams per treatment or 1 scoop per plant into the reservoir and allow time to dissolve. Most reservoirs have a circulation
Start growing 20% faster now!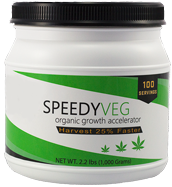 Two months prior they thought they were going to lose their crop.. Then they decided to use SpeedyVeg.
They sent us these incredible pictures!!!! What a transformation!!

Time Savings & Price
What is it worth to you to be able to harvest your plants 20% faster? SpeedyVeg is priced at just $39.95 and each bottle contains 100 servings. Would you pay just $4.00 per plant to harvest your plants 20% Faster? Who wouldn't?

Real Science
Independence University side-by-side growth study showed SpeedyVeg's 75+ natural nutrients with our applied nanotechnology will maximize the plant's genetic potential while accelerating growth times by up to 20% and reducing water requirements, improving resistance to disease.

Easy To Use
For hydroponics or potted plants, one 10-gram dose serving (1 scoop) is applied with each watering. For best result, mix SpeedyVeg with 4oz-8oz of water, shake or mix to dissolve and apply directly to soil or into the reservoir.

Quality
Our Company is GMP compliant which means that we test the quality and potency of every ingredient that enters our facility. You can be confident that when you purchase SpeedyVeg you are buying a superior product at a more affordable price.

Organic SpeedyVeg
SpeedyVeg contains 75 plus powerful nutrients that are 100% all natural and are derived from volcanic, plant and sea sourced minerals. What this means to you is that you are not introducing any unknown or harmful chemicals to your plants that could later on hurt you or your customers.

Buy Direct
We are the manufacture of SpeedyVeg and not just a distributor that puts a label on some other manufacture's product. You are purchasing directly from the manufacture allowing us to cut out the middle man so you can enjoy huge savings.

Free Shipping
SpeedyVeg is shipped for FREE to any address located in the United States. Other companies charge up to $15 per bottle for shipping.

Contact
Our Company is extremely easy to reach before and after the sale. If you have any questions, you can call us directly at 801-644-7283 or you can email us at [email protected]